The Tall Ships Races 2019: European ports announced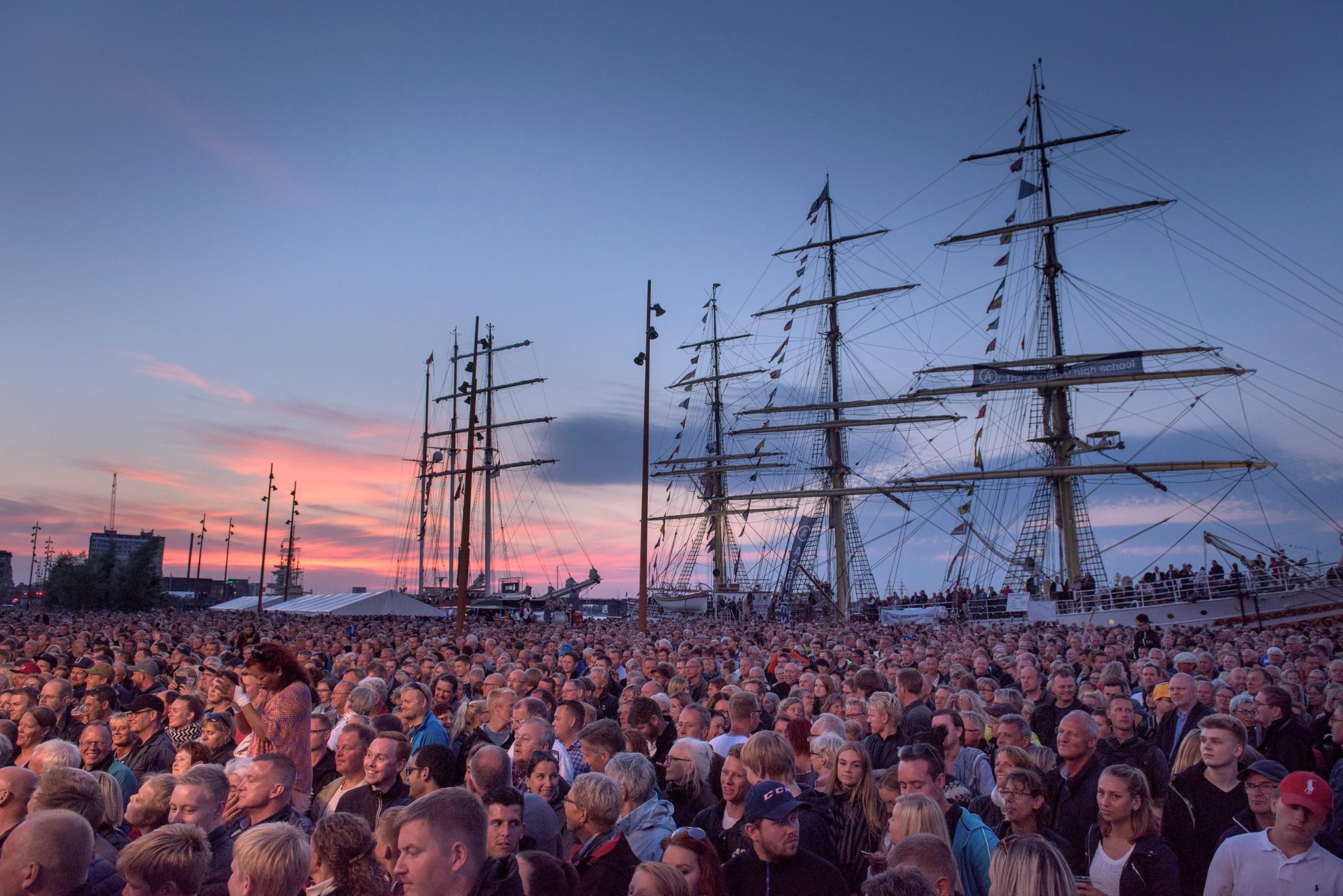 11.01.2016
The four European ports hosting the spectacular Tall Ships Races 2019 have today been announced – Aalborg and Aarhus in Denmark and Fredrikstad and Bergen in Norway.
The four European ports hosting the spectacular Tall Ships Races 2019 have today been announced – Aalborg and Aarhus in Denmark and Fredrikstad and Bergen in Norway.
This three leg event, taking place over the summer of 2019 in North West Europe, will see a fleet of international Tall and Small Ships sail from Aalborg, Denmark to Fredrikstad, Norway in an exciting race in the Skegerrak and North Sea, incorporating a number of waypoints. The international fleet will then enjoy a spectacular cruise-in-company along the coast of Norway to Bergen, before finally racing back to Aarhus in Denmark.
This will be the 69th Tall Ships Race, since the races started in 1956, and its popularity has continually grown ensuring its continued status as Europe's largest, free, family festival.
Paul Bishop, Head of Race Directorate, Sail Training International (STI) said, "We are delighted to confirm a race series with four excellent host ports which have hosted The Tall Ships Races so successfully in recent years.
"The Race Committee has looked at waypoint options which give one short and one longer race leg and a scenic cruise-in-company along one of the most beautiful coasts in the world. This use of waypoints in race one creates an exciting course with vessels often in sight of each other, which has proved popular in the past. The race series will not only give trainees a variety of sail training experiences to choose from, it offers attractive options for many international vessel operators and a strong base for trainee recruitment."
Each port has committed to sending over at least 100 trainees from their local community to take part in the event to deliver the message of international friendship and understanding.
TSR2019: PORTS AND RACES
Aalborg, Denmark
Race one
Fredrikstad, Norway
Cruise in company
Bergen, Norway
Race two
Aarhus, Denmark
Aalborg successfully hosted the event in 1999, 2004, 2010 and 2015. Over these four years the city has seen over 3.2 million people taking part in the festivities, making it the largest and most popular event that Aalborg has had the honour of hosting. 2019 will be its fifth Tall Ships Race, marking the 20th anniversary of the fleets' first visit to Aalborg – The Cutty Sark Tall Ships Race in 1999.
"We are proud and excited that STI has selected Aalborg as one of the host ports of the Tall Ships Races 2019", says Mayor Thomas Kastrup-Larsen. "Although it is the fifth time Aalborg will host The Tall Ships Races, the planning of such an event will be just as comprehensive and the experience just as overwhelming as if it was the first time. After the Tall Ships Races 2015 in Aalborg, we have had a hard time imagining how we can ever exceed the achievements of this event as, in all aspects, it surpassed our wildest expectations. However, we see no reason to rest on our laurels so planning will now start to make sure that The Tall Ships Races 2019 is an even greater success."
Fredrikstad is highly dedicated to sail training and hosted the event in 2005 and 2014. The fleet will have the exciting challenge of sailing through its magnificent archipelago in the Outer Oslo Fjord and offers a unique concentrated berthing area in the middle of the city, just a fifteen minute walk from one end to the other.
The mayor of Fredrikstad, Jon-Ivar Nygård, is proud and enthusiastic about Fredrikstad being selected as host port for The Tall Ships Races, for the third time. "Fredrikstad celebrates its 450 years jubilee in 2017. During the period leading up to this anniversary and during the event in 2019, the city with focus on its history and maritime cultural heritage, not least its shipping tradition. This focus will be passed on to new generations, for example through sail training, as an important part of the city's industrial and urban development." Trond Delbekk, Chairman, Fredrikstad Næringsforening (Chamber of Commerce) supports Fredrikstad as the host for the Tall Ships Races again. "The event has brought valuable experience and gives the city and local business opportunities for marketing, reputation management and development."
Bergen is a UNESCO World Heritage City, a European City of Culture and known as the gateway to the fjords of Norway. Having a reputation as a festival city it previously hosted the Tall Ships Races in 1993, 2001, 2008 and 2014 with tremendous success and has a strong reputation with local citizens. Surrounded by seven mountains, its location makes its strikingly attractive.
Mayor Marte Mjøs Persen said, "Maritime traditions are an important part of Bergen's identity. The joint effort with STI in arranging the Tall Ships Races reinforces and confirms Bergen as a central port for the maritime industry.  Bergen has proven to be a city for big events, with the Hanseatic days in 2016, the UCI Road World Championship in 2017 and now the Tall Ships Races in 2019. We are honoured and looking forward to welcome the Tall Ships fleet to Bergen in 2019."
Commissioner for climate, cultural affairs and business development, Julie Andersland, said, "We are very pleased that STI has again showed confidence in us to be the host of Tall Ships races in 2019. We have fantastic memories from the last time we hosted this event, and we will do our best to make the Tall Ships Races in Bergen 2019 an unforgettable experience."
Aarhus has a long, strong maritime history since the Vikings and previously hosted The Tall Ships Races in 2007 and 2013. Working with the local community they are committed to giving youngsters the life changing experience of sailing in the Tall Ships Races and include a special programme for people with disabilities.
"I am very much looking forward to the Tall Ships Races revisiting Aarhus in 2019. A visit by this magnificent sailing race event fits perfectly with the maritime focus of our city, and it will be a natural, and most welcome, addition to our calendar of major events after our year as European Capital of Culture in 2017 and the ISAF Worlds in 2018. The unique Bay of Aarhus and our new urban harbour areas will provide a wonderful setting for the large contingent of mighty Tall Ships and attract large numbers local residents and visitors," said Rabih Azad-Ahmad, Mayor of Sport, Culture and Citizens Services, for the City of Aarhus.
Jacob Bundsgaard, Mayor of the city of Aarhus said, "It is a wonderful opportunity for Aarhus in 2019, once again, to be a calling port for the Tall Ships Races. Aarhus has hosted the Tall Ships Races on three previous occasions. Most recently in 2013, when Aarhus, as the race's starting port, in partnership with the STI, laid on a huge sailing party in the harbour area, which, in addition to lots of happy crew members, attracted half a million delighted visitors from far and near. These festivities, and the great success of this event, is something that we look very much forward to repeating – preferably also with a twist!"
For more information contact Sally Titmus, Communications and Marketing Manager, Sail Training International, Charles House, Gosport Marina, Mumby Road, Gosport, Hampshire, UK PO12 1AH
Tel: +44 (0) 23 9258 6367 Email: sally.titmus@sailtraininginternational.org
Editor's notes:
Photos from the ports are available on request.
What is sail training?
Sail Training is an adventure activity, which includes far more than sailing instruction. Participants are required to confront demanding challenges, both physical and emotional. It is an activity that inspires self-confidence and personal responsibility. It promotes an acceptance of others, whatever their social or cultural backgrounds, and develops a willingness to take controlled risks. Those who undertake Sail Training on Tall Ships generally find it a positive life-changing experience.
About Sail Training International (STI)
STI is the international voice of Sail Training, a registered charity (not-for-profit organisation), which has worldwide membership and activities. Its purpose is the development and education of young people through the Sail Training experience, regardless of nationality, culture, religion, gender or social background. It organises the annual Tall Ship Races and other international Tall Ship sailing events. STI members are 29 national Sail Training organisations around the world and STI's head office is in Gosport, Hampshire, UK.
The organisation was nominated for the Nobel Peace Prize 2007 for its work in promoting international understanding and friendship.